About SOAR
SOAR was established in 1982 by licensed therapist and airline captain Tom Bunn to develop effective help for flight difficulty. Other programs were unable - and are still unable - to deal with claustrophobia, high anxiety, or panic. SOAR is uniquely effective and has helped thousands of clients, even with extreme problems, fly comfortably and confidently.
The free information we offer helps you understand how flying works and basic strategies for controlling emotions. Review this information before your next flight. If the difficulty you have had with fear of flying is mild, this may bring satisfactory relief.
Will you need more help? If you are unsure whether flying is safe, or if you have claustrophobia, high anxiety, panic, or difficulty with high places or elevators, more help will be needed. Since these feelings develop automatically, control must work automatically to control the stress hormones that cause these feelings. Once the release of stress hormones is under control, you will control anxiety, panic, and the feeling that you need to leave the plane.
Regardless of what you have tried, don't give up. We can help. Choose from the advanced services immediately available. Instructive videos can be downloaded directly to this app. Counseling can be arranged by phone.
Captain Tom Bunn, MSW, LCSW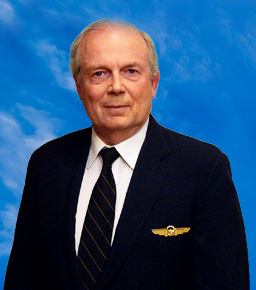 After graduating from Wake Forest University in psychology, Captain Tom entered the U.S. Air Force. Number one in his class when he got his wings in 1960, he was given his choice of assignments, and chose to fly the Air Force's first supersonic jet fighter, the F-100.
He served from 1961 until 1965 with the 9th Tactical Fighter Squadron at Spangdahlem Air Base in Germany flying the F-100 and F-105. In addition to flying, he did accident investigation and developed a safety device for the F-100.
While in Germany, Captain Tom raced a Lola Mk5 Formula 3 at the Nurburgring, Zolder, Zandvoort, and Rouen. When returning to the U.S., he converted the car to SCCA Formula C specifications, and drove it to a Sports Car Club of America National Championship in 1965.
From 1965 until 1986, he flew DC-8s, 707s, and 747s internationally with Pan Am. From 1986 until 1996, he flew 747s, 757s and 767s at United Airlines.
The first fear of flying program was started at Pan Am by Captain Truman "Slim" Cummings. Captain Tom worked with him on that program until founding SOAR in 1982 to develop more effective methods for dealing with flight problems. This led to graduate school at Fordham University where he earned a Masters Degree with top honors, and several years of postgraduate study at the Gestalt Center Of Long Island, the New York Training Institute For Neurolinguistic Programming, and The Masterson Institute.
He was licensed as a therapist in 1990 and is the author of the book SOAR, The Breakthrough Treatment for Fear of Flying about which Stephen W. Porges, Ph.D., Professor of Psychiatry, University of North Carolina, author of The Polyvagal Theory: Neurophysiological Foundations of Emotions, Attachment, Communication, and Self-regulation writes, "SOAR is more than a program of effective exercises to treat fear of flying. SOAR provides a relevant and understandable explanation of how the nervous system—as it works outside of awareness to protect us—overreacts and puts us into a state of anxiety when flying. SOAR provides the toolkit to educate the part of the brain that is below consciousness and involved in regulating anxiety to more accurately evaluate risk related to flying."
Lisa Hauptner, MS, LMHC, CASAC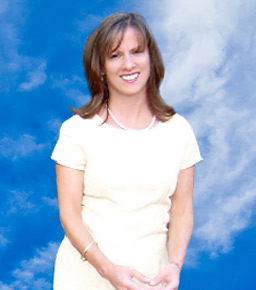 SOAR Vice President and Director Lisa Hauptner relates to each client with a fear of flying - she was a client herself. In 1989, Lisa's career in corporate finance for a major bank required her to fly on a quarterly basis, and a sudden-onset fear of flying made her dread each trip. At the age of 30, Lisa was confused why travel, which she once enjoyed so much, could evolve into something horrible. Her knowledge and interest in aviation, travel, and airlines could not prevent the dread she felt when making reservations for her next business trip. A flight from LAX to JFK, although in perfectly smooth weather, prompted her to swear off flying and make reservations for her next business trip on Amtrak. Realizing this was restricting her life, she sought a solution.
In the pre-internet age, Lisa read about SOAR and Captain Tom Bunn in a book and decided she must take action. The results astounded her. After completion of the SOAR program, Lisa overcame her fear and felt empowered. She was so confident in its life-changing approach, she contacted Captain Tom Bunn and told him she wanted to leave the corporate world to resume her education, obtain her license, and join him in helping other fearful fliers through SOAR.
In 1997, Lisa received a Bachelor's degree in Human Relations and Applied Psychology from Pace University, summa cum laude, and received the "Psychology Award" from faculty. In 2000, she earned a Masters degree in Mental Health Counseling with a specialty in Substance Abuse, and was named Pace's "Outstanding Graduate Student" of the year. Oftentimes, a career change signifies that one has made major improvements to overcome a fear; Lisa experienced this firsthand as she transitioned from the corporate world to counseling.
Today, in addition to running the SOAR business and counseling fearful fliers, Lisa serves as an adjunct professor at Pace University in their Masters in Mental Health Counseling Program. She created and served as coordinator of the adult inpatient co-occurring track at Four Winds Hospital, a private psychiatric hospital in Katonah, New York. However, she continues to provide both inpatient and outpatient group therapy at the hospital on an as needed basis. She currently maintains her own private psychotherapy practice in Bedford Hills, NY.
Lisa is a New York State Licensed Mental Health Counselor, a New York State Credentialed Alcohol and Substance Abuse Counselor, and a National Certified Counselor. She is a member of the New York Mental Health Counseling Association, the American Counseling Association, and a Fellow of Dyson College of Pace University.